No more waiting for food at the turn!
Just Place your order at the 8th OR 17th Tee and have your food ready for pickup from the bar when you're done with 9 or 18. This service is available daily throughout the season.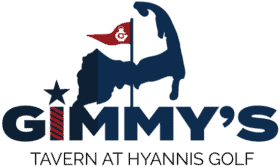 About Gimmy's Tavern
Gimmy's Tavern is a first-rate restaurant that serves golfers as well as the general public. An amazing venue space for special occasions, local businesses and community organizations.
We offer the perfect setting for your Corporate Outing or group event. We have both indoor and outdoor venues for hosting your pre- and post-game activities, contests, and parties, and the golf course design welcomes players of all skill levels. We have a breakfast event menu and a dinner event menu. Contact our Events Team for more information!
Our Mission
Gimmy's Tavern at Hyannis Golf Course is operated by the non-profit corporation Massachusetts Military Support Foundation (MMSF) and is the center of two of MMSF's most important programs: Meals4OurMission and Jobs4Vets.
Meals4OurMission
Nutritious, prepared meals will be created by optimizing ingredients unused by Gimmy's Tavern and food donations sourced from MMSF's partners in support of current food distribution programs. Foods prepared through Meals4OurMission will be distributed to local community partners and families in fresh and/or frozen forms. One of the lessons learned during the public health crisis was that many individuals and families suffering from food insecurity do not have the capability or space to turn food donations into meals themselves; this program ensures maximum options for them as they face this issue, while reducing food waste and increasing efficiencies across MMSF operations.
Jobs4Vets
Gimmy's Tavern prioritizes hiring veterans and their families as well as family members of active-duty military to work in all aspects of the restaurant. Jobs4Vets provides a dedicated manager on-site to train and support veterans as they develop work skills, assimilate into jobs and work towards self-sufficiency. As many veterans are re-entering civilian employment the adjustment period is challenging for a variety of reasons, Gimmy's tries to change this by offering many positions throughout its operation that focus on the hospitality industry from food service to event planning.
MMSFI can only offer these programs with your support. As a 501(c)3 your donations to MMSFI may be tax deductible and will most certainly make a difference in individual lives. You are helping us Serve those who have Served Us!
Donations may be made online at www.MMSFI.org or via check to MMSFI @ PO Box 715, West Barnstable, MA 02668. There are many ways to become involved – you can learn more about MMSFI's programs, volunteer opportunities and upcoming events on our website.